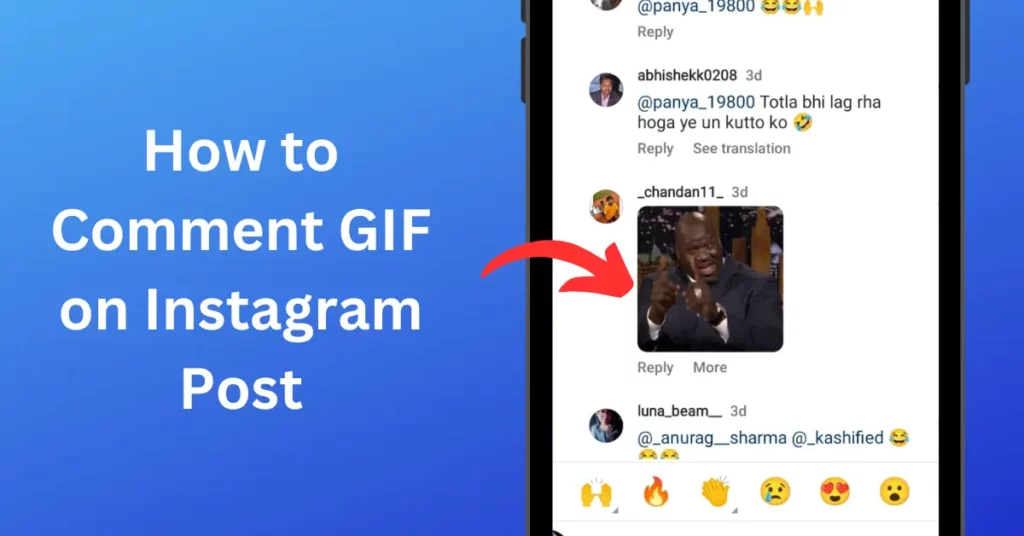 Are you looking for how to post a gif as a comment on Instagram? Earlier we could add GIFs while replying to Instagram stories but now Instagram has taken this feature a step further and now we can also use GIFs while commenting on any Instagram post.
With the help of GIFs, we can express our feelings more efficiently. compared to simple commenting, GIF comments look more attractive and can be easily seen and understood by others, whereas with in-text comments, you have to write long sentences, and still people will read your comment. There is no guarantee.
The GIF comment feature is already available on the social media platforms like Twitter and Facebook and now on Instagram. Actually nowadays most people like to comment through GIFs on social media. and Twitter is a living example of this. You must have seen Gifs comments below any tweet.
How to post a GIF on Instagram comment
Many people know about GIF commenting feature of Instagram, while they also know how to use it, but there are many people who do not know how to comment on GIFs on Instagram, so here we are going to tell you. how to do Comment GIFs on Instagram Posts!
Posting a GIF on Instagram Post is very simple, just follow the steps given below.
1. Open the comment section of any Instagram post
Open the comment box in the same way as you open the comment box for making a normal comment.
2. Now tap on the GIF icon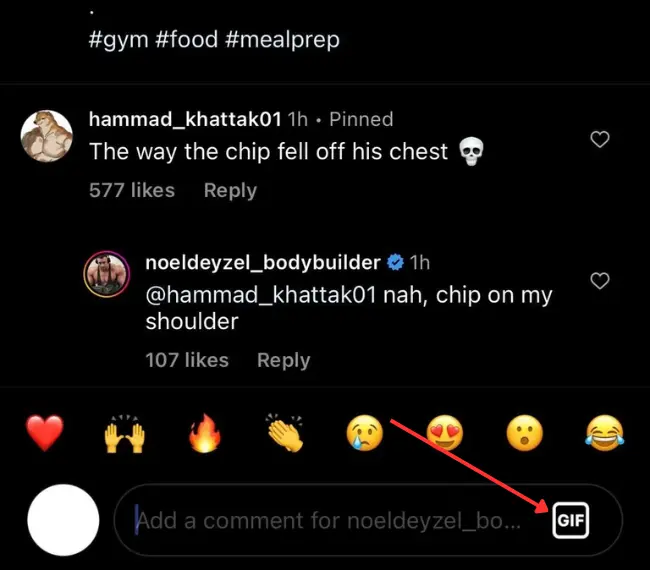 After going to the comment section, you will see the option of GIF at the bottom right side, tap on it.
3. Find and post the GIF you like
Now GIPHY library will open in front of you from where you can search and use your favorite GIF for commenting on Instagram posts.
So it is that easy to comment on an Instagram post. But if this method is not working for you or the GIF option is not showing inside your Instagram app then there is nothing to worry about because at present time it is a common error that many people are facing.
Actually, Instagram has just launched the feature of GIF commenting, which means it is still a new feature, so people are facing some difficulties in accessing this feature, but there is also a solution to it, you can update your Instagram app from Playstore and you will definitely get this feature.
Can't Post GIF Comments on Instagram?
As I told you, many people are facing problems getting this feature, which can be due to various reasons. The first and most common reason is that your Instagram app is not updated, so you have not received new updates from Instagram, so first of all go to Play Store and check if there is any update for your Instagram app. if Yes then Update your app.
The second biggest reason could be that Instagram has not rolled out this feature in your region yet. Let me tell you that many times Instagram launches a new feature only in selected regions and later those features are launched for the rest of the regions. Instagram did the same with the feature of Instagram notes, the feature of Instagram notes was also available only in select regions in the initial days, and later it was launched for all regions.
The third possible reason for not getting the feature of GIF Comments on Instagram may be your device. Yes, perhaps this feature is not supported in your device, so you are not seeing this feature.
In the end, I would say that the feature of GIF Comments is really good and it will make it easier for people to comment on their feelings. If you have not got this feature yet, then keep an eye on the upcoming updates of Instagram, you will definitely get this feature.
Also Read –